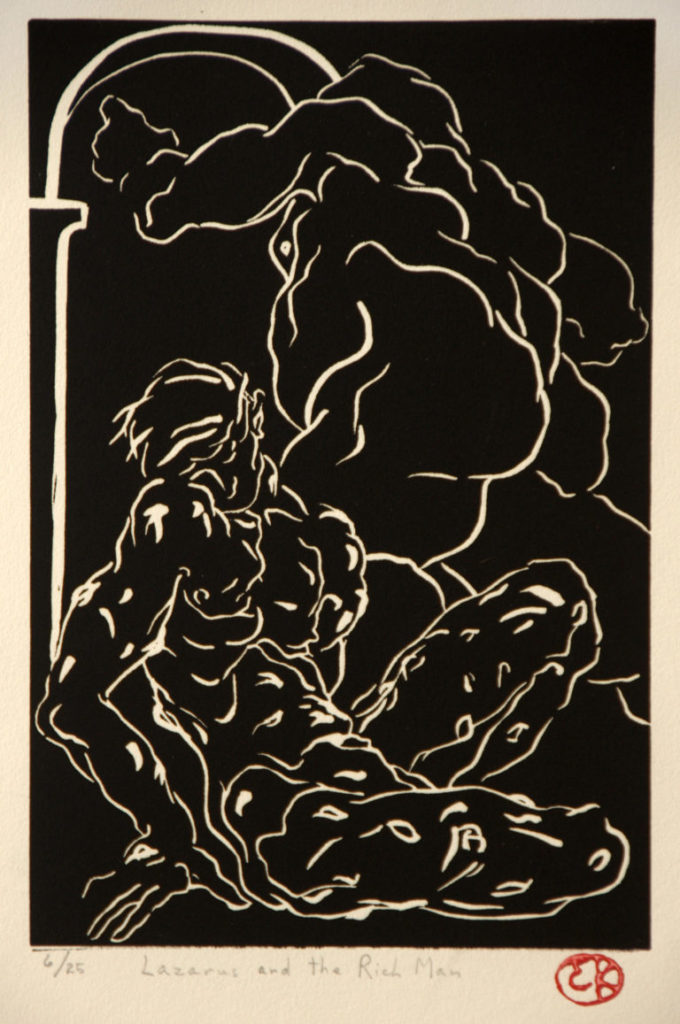 Pray-As-You-Go Audio Meditation 
Father Mike Connors, CSC our longtime priest-in-residence returns to Sunday Eucharist after a number of academic-pastoral gigs outside Notre Dame. 
Each Sunday during this "Year C"of the liturgical calendar we work (fairly) consecutively through the Gospel of Luke. Today we hear a third parable in a row, forming a kind of triptych  of how Jesus asks us to reframe our moral imagination. Two thousands years of listening to Jesus (at least in theory) and this reframing still stings! 
Who doesn't want to enjoy the good life? I, too, like to eat, drink, and be merry. And attending to those who in some way have less puts a real drag on that enjoyment.
Today's parable presses us and like the parables of Prodigal Son and the Unjust Steward: it risks offending us. All three press against our conceptions of fairness and hard work. Perhaps the rich man in today's Gospel was unfair and earned his money through duplicity, but Jesus doesn't tell us that; that doesn't appear to be the point.
The above art depicts the rich man who has no name and suffering Lazarus who does, as both naked. They are both vulnerable and in God's view creatures.
Lazarus shares a symbolic connection to Eliezer, the great Ancestor Abraham's steward. The grace shown to him is a long time coming. But the rich man, even in his time of turmoil, can only see Lazarus as a means to his own ends, a servant even in the afterlife.
The rich man has lost a sense of his fundamental connection to all humanity. The "bosom of Abraham" represents the all encompassing embrace of the Father. To be in the bosom is to understand oneself as both subject to and beneficiary of God's everlasting covenant. Even as he experiences torment in the netherworld, he cannot see that we are all saved together. I don't mean we all have the exact same relationship with Jesus the savior. I do mean that our salvation is somehow wrapped up in what God is doing for and with all of us.
How do we bridge the gap between us? Solidarity is what God wants from us. And for us to see that we belong to one another we have to act as if we already do. We invite one another in; into hearts that would otherwise harden. We are all creatures before a divine reality that can never be known completely on our own. The Way of Christ can and will build a bridge over the deepest divisions.
Music: Little Things With Great Love
words and music by By Audrey Assad, Isaac Wardell, and Madison Cunningham 
In the garden of our Savior, no flower grows unseen; 
His kindness rains like water on every humble seed.
No simple act of mercy escapes His watchful eye —
for there is One who loves me: His hand is over mine.
In the kingdom of the heavens, no suff'ring is unknown; 
each tear that falls is holy, each breaking heart a throne.
There is a song of beauty on ev'ry weeping eye —
for there is One who loves me: His heart, it breaks with mine.
Oh, the deeds forgotten; oh, the works unseen, 
every drink of water flowing graciously,
every tender mercy, You're making glorious.
This You have asked us: do little things with great love,
little things with great love.
At the table of our Savior, no mouth will go unfed; 
His children in the shadows stream in and raise their heads.
Oh give us ears to hear them and give us eyes that see —
for there is One who loves them: I am His hands and feet.