Every residence hall elects four officials to represent their interests and lead programming efforts:
2021-2022 Elected Officials
President: Will Forsen
Welcome! I'm Will Forsen and the Carroll Home president for 2021-2022. A PLS and Global Affairs major from St. Louis, MO, I love to read, write, and hang out with my fellow Vermin whenever possible. Also a member of the Men's Rowing Team, you can find me trying to boost my cardio on 2am Taco Bell runs and playing Will It Stick? In the hallways. With great guys, a beautiful location, and 14-ft tall ceilings, there's a reason we won Hall of the Year in 2020. I am incredibly proud to represent the Vermin across campus and can't imagine a better place to live during my time at ND. James and I have a fun year ahead of us, and we can't wait to get started in August! See you then.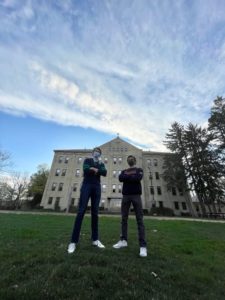 Will (left) and James (right) standing in front of Carroll's sand volleyball court and Carroll Hall.
Vice President: James Shoen
Hello everyone! My name is James Shoen and I will be serving as Carroll Hall Vice President this upcoming academic year. I'm a rising sophomore studying Accountancy, with a supplementary major in Spanish. In my free time, I row for the Men's Rowing Team with our President, Will Forsen. I can't wait to meet all of you this August and welcome you into the Carroll Community. Roll Vermin!
Senator: Nolan Lyon
Student Union Board (SUB) Representative:

Bryce Waldmann
The Commissioners
In Carroll Hall, the hall president and vice president appoint a number of commissioners to lead programming efforts in various areas of interest.
Academic: Preston Chen, Luke Thompson
Activities: Daniel Hernandez, Teddy Daubenspeck
Alumni: Tanner Condon and Michael Hawley (fall), Mike O'Shea (spring)
Apparel: John Adkins
Athletic: Bryce Waldmann
Birthday: Pat McCarthy
Carroll Christmas: Vaibhav Arora, Nolan Lyon
Dance: Thomas Constant, Tony Masso-Rivetti
Dorm Outreach: Paul Stoller
Gender Relations: Zach Bergman (fall), John Doran (spring)
Grill: Vaibhav Arora, Sean Dolan
Lakeside: Henry Baer, Alex Jarosik
Liturgical: Luke Thompson
Liturgical Music: Keo Pangan
Marketing/Social Media: Alex Jarosik
Multicultural: John Adkins
Rockne: Preston Chen, Nolan Lyon, Alex Jarosik
Social Concerns: Finn O'Reilly, Aidan Gordley
Traditions: Daniel Hernandez