Every residence hall elects four officials to represent their interests and lead programming efforts:
2019-2020 Elected Officials
President: Aidan Cook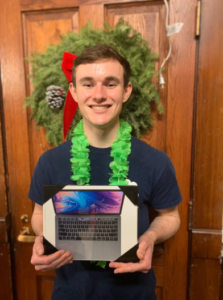 Aidan Cook is a junior, majoring in Biology and ACMS. Originally from Central New Jersey (it exists), he now lives in the Lakeside Estate. Aidan lives with Tommy Kacius and Jacob Stellon, by whom he is known as the greatest Mario Kart Wii player to ever exist. When he is not fueling his budding coffee addiction in the library, he can likely be found doing research on mosquitoes or training for Third Floor Abs. Aidan is always happy to talk about anything, so stop by his room if you ever have any questions or just want to hang out. He is very excited to get to know the incoming Vermin and is ready to win Hall of the Year!
Vice President: Jacob Stellon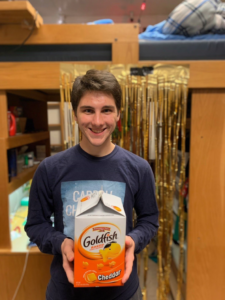 Jacob Stellon is a junior, majoring in Chemical Engineering and minoring in Energy Studies. Jacob is from outside of Chicago (just like half the other students at Notre Dame) specifically St. Charles, IL. Jacob lives in a nice room in which Tommy Kacius and Aidan Cook rent out beds. Have you ever heard of Irish Gardens (Notre Dame's on campus flower shop)? It's ok most people haven't. Jacob is a manager at Irish Gardens and will make a nice corsage for your formal date(s). Most importantly, Jacob is excited to meet Carroll Hall's newest residents during Welcome Weekend!
Senator: Luke Stringfellow
BIO COMING SOON.
Student Union Board (SUB) Representative:
Christian Lee
BIO COMING SOON.
The Commissioners
In Carroll Hall, the hall president and vice president appoint a number of commissioners to lead programming efforts in various areas of interest.
Apparel: Ryan Farrow
Athletic: Brian Dineen
Birthday: James Cullinane
Carroll Christmas: Evan Cook, Tanner Waltz, Tommy Kacius
Dance: Ben Ferris
Dorm Outreach: Luke Stringfellow
Fun: Paul Farrington
Gender Relations: Vince Mallett
Grill: Kenta Sachen, Evan Cook
Lakeside: Andrew Fulwider
Liturgical: Teddy Whiteman
Liturgical Music: Matthew Gaborek
Multicultural: Quinn Burns
Rockne: John McDonough, Quinn Burns
Social Concerns: Weston Dell, Tommy Kacius
Social Media: Sam Jackmore
Traditions: Vince Mallett