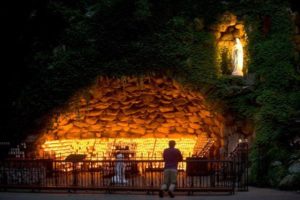 I have been excited to return to campus and begin my third year serving as a hall staff member at a Holy Cross university — first as an RA at the University of Portland and now in my second year as an Assistant Rector at Notre Dame. This means it's also my third year of hall staff training, characterized by a week of intense lectures and conversations surrounding community, formation, and what it means to care for residents. The work of building community is life-giving to hall staff, it's why we took the job, but it also means acknowledging many of the harsh places our residents may find themselves. This means talks surrounding sexual assault, all forms of discrimination, substance abuse, mental health crisis, and more. These are not meant to scare us, nor make us experts. They are meant to better prepare us to walk with our residents through their experience, should they find themselves facing any number of these challenges.
Despite the often heavy nature of hall staff training, in my experience, it is usually a week of hope and optimism for the year to come. This year has felt different. The University of Notre Dame will be one of the first schools in the country to resume on-campus learning at full capacity. Coming back to campus, I knew that COVID-19 would affect much of our life and traditions. But only after arriving and completing the first few days of training did the full gravity of what we are trying to accomplish settle in.
The harsh realities of COVID-19 are felt in every aspect of campus life. The "HERE" social campaign posters hung in every room, three of seven staff members missing from unforeseen complications, strict social distancing and mask standards, a drastically altered dining hall system, daily health checks, limited recreational opportunities, limited student visitation policies, limited travel off-campus, and the constantly looming threat of quarantine from contagion or exposure. As I learned and experienced more of what life is to be on campus this year, I began to lose hope and feel overcome with anxiety.
Anxiety about whether we can adequately protect our students and staff. Anxiety about whether I can mentally sustain the effort and start a PhD program at the same time. I'll admit I began to question our goal. Questioning why I was here. Sometimes wishing I would have chosen off-campus housing, which would provide greater liberty and sense of normalcy.
For a moment, however, my thoughts were quieted on our visit to the Grotto. It's a tradition at Notre Dame that near the end of training, hall staff take a trip to the Grotto to reflect on the week, the coming year, and most importantly, say an individual prayer for each new student coming to our hall in the coming days. We do this so that each is "known by name". So that as each new student arrives on campus, likely nervous and filled with their own anxieties, they are called by name to show they are welcome and that they are home.
We read through our list of soon to be Vermen, repeating "pray for him" after each name. This time, echoes from three of our staff members rang out from the Zoom call on the phone propped up just below Mother Mary. We concluded with the Lord's Prayer and I was struck by the surrealism of the moment. Reciting a prayer written over 2000 years ago, at a University over 100 years old, fighting a novel disease with 21st century technology. It seems so much and yet so little has changed over that span of time. "These are the moments that try men's souls" and while we don't choose for these moments to happen, they happen nonetheless. What we can control is our response to them. Someone has to be an AR in Carroll Hall this year (two someones actually). Reflecting on all of the people returning to Carroll whom I love, and of all the new students I have yet to know, I feel a profound sense of pride to be that person. Pride that I have the opportunity and privilege to serve the students in this time. Proud that I am strong enough to shoulder this weight and that I am not alone in this journey.
Our world is less than ideal, but here at Notre Dame, we are together. And this is what we are choosing to fight for. I don't know if we will make it, but we're going to give it our very best.
– Sam Pasmann, AR Carroll Hall